I love blue and so does my daughter so here is a gorgeous kit by Armina Designs called
ANWELL KIT
. Anwell Kit is so beautiful for scrapping those sweet and romantic photos and yet it is so versatile that you can use it for any kind of layouts.
Paper Pack
ad
Glittered Paper Mats
are also available in separate packs.
Grab Anwell Kit
now at
Pickleberrypop.
ANWELL PAPER PACK
ANWELL GLITTERED PAPER MATS
Before I show you my layout, here is

SKETCH TEMPLATES COLLECTION 46 & 47

BY LORIEM DE SIGNS

. A great collection of templates that you can use to create gorgeous layouts. In my layout I used one of the collection 46. You can get it at her shop at

Pickleberrypop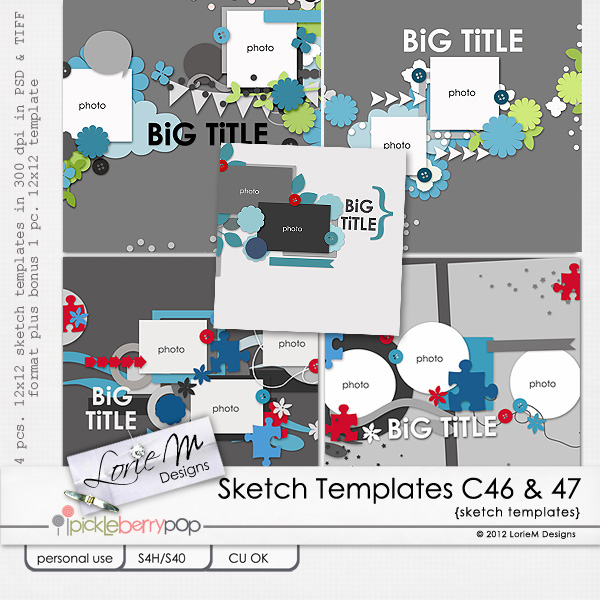 Now here is my layout using photos of my sweet eldest daughter
Edrica and her lovable hubby. How I miss them so much.
It's a rainy Thursday and I am lazy. hihi. The twins are awake and just waking for one to cry so I can help. Hope no one cries for at least an hour though. lol. I need some scrappin' to do. I am so lucky I was accepted as a CT at
Pickleberrypop
. It is honestly one of my favorite stores. I am so fortunate that I was able to create layouts for Armina Designs and LorieM De Signs. WHY? Because they are filipinas!!! lol. Not only that.... Well, you should see their designer line up and you would understand me why I am lucky to be part of the store CT. lol.
HAPPY SCRAPPING EVERYBODY
GOD BLESS YOU ALL