SASKIA DESIGNS
IS OUT WITH A NEW KIT THAT SPELLS
GLAMOUR
,
.
MY TAYLOR IS RICH.
It is a beautiful kit that is rich in elegance and class. My Taylor is Rich contains 18 gorgeous papers and 104 classy element that you will adore. Visit Saskia stores now by clicking on the blinkies below. You can get discounts of up to 25 %.

THE KIT
THE PAPERS
Disponible chez:
HERE IS MY LAYOUT. THANKS AGAIN TO MY FRIEND GEORGINA FOR THE BEAUTIFUL PHOTO OF BELLA. IT JUST MADE MY PAGE SO ELEGANTLY RADIANT. HIHI
BTW, YOU CAN ALSO PURCHASE THE BUNDLE WHICH INCLUDES CLUSTERS, QUICKPAGES AND WORDARTS. IF YOU PREFER YOU CAN BUY THEM SEPARATELY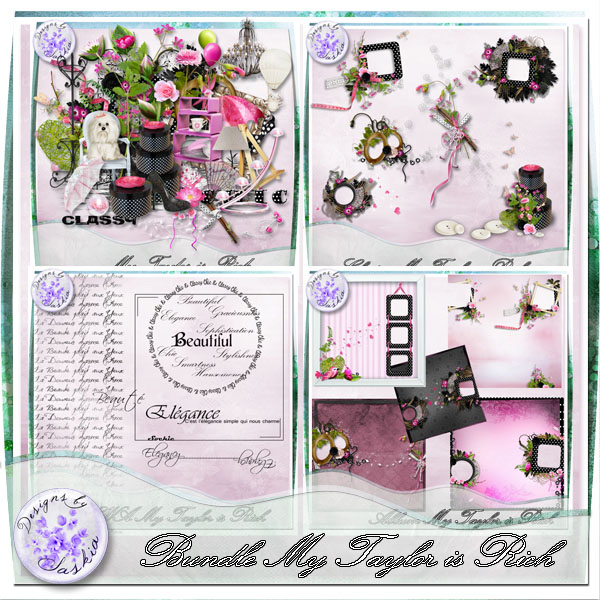 Aside from My Taylor is Rich
,
Saskia Designs
also made a contribution to this gorgeous
CHARITABLE KIT CALL

I MISS MY HOME
. This is for the benefit of our neighbor JAPAN. I don't think I have to tell you about the tragedy of Japan. Everybody knows it. This is a very special way for the designers of DigiscrapbookingCH to help out. This kit is huge; with 44 papers and 139 elements from the shop's great designers, including Saskia Designs. Hihi
SO GRAB IT NOW AND HELP OUR BROTHERS AND SISTERS IN JAPAN. IT WILL ALL BE WORTH IT. JUST CLICK ON THE IMAGE OF GO
HERE
MY LAYOUT. THANKS TO XJULIEX OF DEVIANTART FOR THIS GORGEOUS PHOTO I USED
HAPPY SCRAPPING EVERYONE. I AM HAVING A HEADACHE RIGHT NOW BUT I NEED TO FINISH A FEW LAYOUTS. HAVE A BLESSED DAY!! OR GOOD NIGHT! HUGS!