The weather is still cold and windy and I love it. LOL. Thank God , the tropical depression did not turn into a typhoon and I hope this rains stops because my niece's wedding on Saturday is a garden wedding. It will be a pity if the weather will spoil her special day.

Well, I scrapped and surfed all day so my back is slightly aching. hehehe. I really had fun anyway.

Ingrid of ButterflyDsign

has released another gorgeous kit called

LIFE IS MAGICAL

.

And yes, you can turn your memories in to something magically beautiful with this kit. This lovely kit contain 8 papers and 71 elements and is already available at

DIGIDESIGNRESORT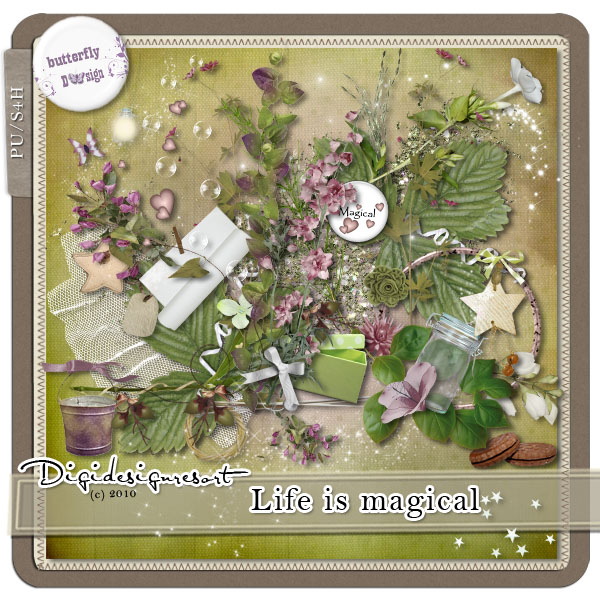 And here is a page of our only grandson Aiden. This was taken last Christmas and I find the photo with his dad so sweet.I always love father and their children photos. I find it sweeter. I don't know why.
I was not satisfied with Aiden's page. MAybe because I was not able to showcase much elements of the kit. While I was practicing my sketch effect in photoshop with my friend Terry's photo , I decided to make another page for Life is Magical. The weather was magical to me yesterday. HAHAHA. And honestly, I love it. Terry and Claudia ( her mom) loved it a lot too. It is a real nice feeling when your friends appreciate your work.
I am proud of this page. hehehe. Wish I used my photo instead. HAHAHA. Thank you Terry for the photo. You and Kerry looks so gorgeous.
Finally! I have another
freebie
. Well, it's just a mini cluster but I find it so cute and I hope you will find it useful in your pages too. In behalf of
ButterflyDsign
, you can get my freebie
HERE